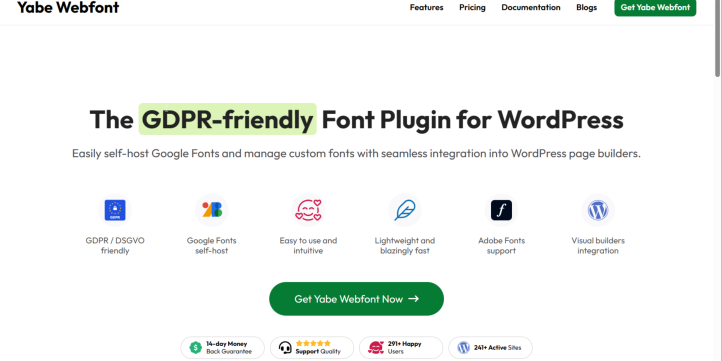 Custom fonts management and self-host Google Fonts with seamless WordPress page builders integration
Yabe Webfont helps you use custom fonts on WordPress and easily self-host the Google Fonts.
Leverage Browser Cache, reduce DNS lookups/requests, reduce Cumulative Layout Shift and make your Google Fonts 100% GDPR compliant.
GDPR Compliant
The European Union's General Data Protection Regulation (GDPR) is a regulation in EU law on data protection and privacy for all individuals within the European Union.
When using a Google Font on your website, you must get visitors' consent before displaying the font.
You can avoid this by self-hosting the font on your website and not need to show your website visitors the GDPR-compliant cookie consent banner.
Performance
Serving the font file from your server will improve the website performance by reducing DNS lookups/requests and leveraging the Browser Cache.
It will also reduce the Cumulative Layout Shift (CLS) and improve the Core Web Vitals.
User-friendly
The plugin is designed to be user-friendly and easy to use. It just requires a few clicks!
Custom Fonts — Upload and use your custom fonts on your WordPress website.
Google Fonts Import — Type on the search box to find the Google Fonts you want to self-host, then click the import button.
Seamless integration with page builders
Yabe Webfont is designed to be seamlessly integrated with the most popular page builders.
Reviews
I've used quite a few other font plugins, WordPress and on different platforms and by far I enjoy this one the most. Thanks for your support and producing such a great product.
Yes it's easy to add fonts manually – but now I can do it in 2 minutes instead of 10. Pre-load with one-click – CSS provided if I want to circumvent the plugin. It's very neat.
It also provides a nice, easy way to use Variable fonts. Several builders need 1 entry per weight/style… where Yabe allows you to upload just one font-file and properly apply the variations.
Once I've done 10 projects it will have paid for itself in the time-saved alone.
This is a fantastic plug-in and an instant-buy if your theme doesn't already handle it for you. It's powerful, flexible, easy to use, and lightweight. What more could you ask for?
The implementation is probably the best or easiest recognized feature of this plugin. To use VUE in the WP UI makes it feel fluid in experience. The actual plugin options are great. And the expected result for me works wonderful.
I would like to request the option to rename or remove the "Yabe" prefix on those fonts, at least in Breakdance compatibility. Because to a client user, or in general, to look at a list of fonts prefixed Yabe in their dropdown label can be confusing. For me, in the code, I just removed this, because the only fonts I keep listed are the ones uploaded through this plugin.
You must log in and be a buyer of this download to submit a review.